This year, being the 10th anniversary of both Jon's diagnosis and his Kona race at the World Championships, we were thrilled to have a race in his name here in southern New England. The run included a 5K, 10K and kids FUN RUN at a beautiful setting in Warwick, Rhode Island, right on Narragansett Bay; an incredible site for a run!
| | | | |
| --- | --- | --- | --- |
|   |   |   | |
|  Kid's Fun Run |  5K and 10K Start |  Blazeman Warrior Andrea Peet (#179) and husband, Dave |  Blazeman Warriors Matt Lagor and Mark Searles |
The event was directed by TRIMOM PRODUCTIONS and organized by Joe Goddard and Al Lamothe. The proceeds from this event will benefit the Blazeman Foundation for ALS community projects fund. Thank you to all who came out in support of pALS.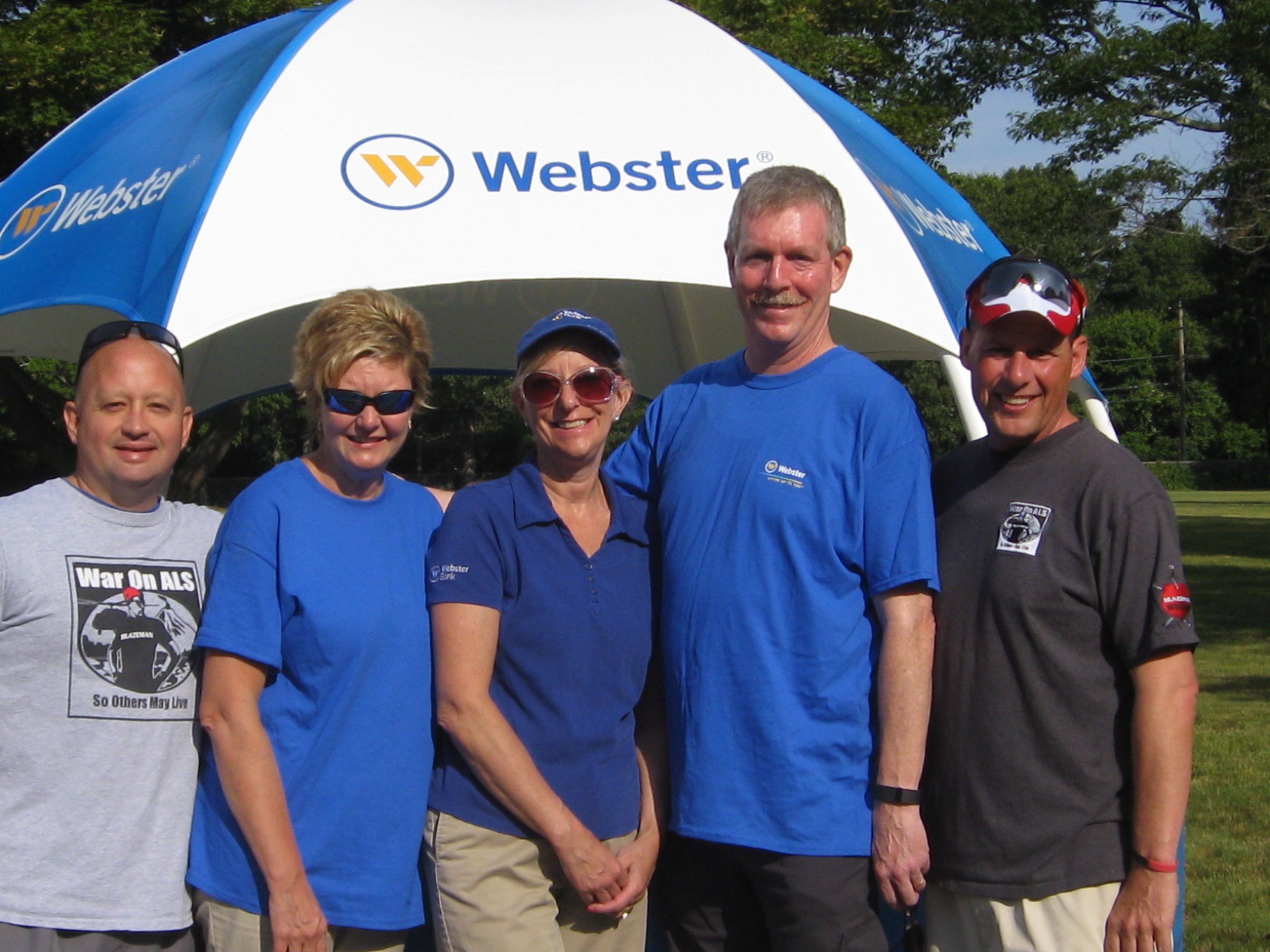 A Huge Thank You to Webster Bank
along with Joe Goddard and Al Lamothe for your support.
The Blazeman Foundation for ALS was thrilled to award "The Spirit of Blazeman" award at the 2015 inaugural Blazeman Run at Aldrich Mansion.  Many athletes have watched the video of Jon competing in Kona at the World Championships back in 2005. Jon was approximately 18 months into ALS at that time as he gave everything he had to finish before the 17hr. cutoff. He did finish and rolled across the finish line as he said he would, to bring attention to a cruel disease with no treatment or cure.
There was another important side to Jonathan Blais. If asked, he would always say "I am a teacher first." As a special education teacher in San Diego at the Aseltine School, Jon had found his true calling there. Jon focused his energy on helping kids who were emotionally challenged and learning-disabled. This is also where he became better known as "The Blazeman." Jon did amazing work with his students, bringing his love of sport and the outdoors to these young boys and girls. Through summer recreation programs and outdoor activities, his students learned to overcome obstacles and become stronger through hard work and determination. The Spirit of Blazeman award keeps Jon's memory alive by recognizing an individual who inspires others to become a better person, who leads by example, and has a passion for the journey of life.
2015 Recipient: Mark Searles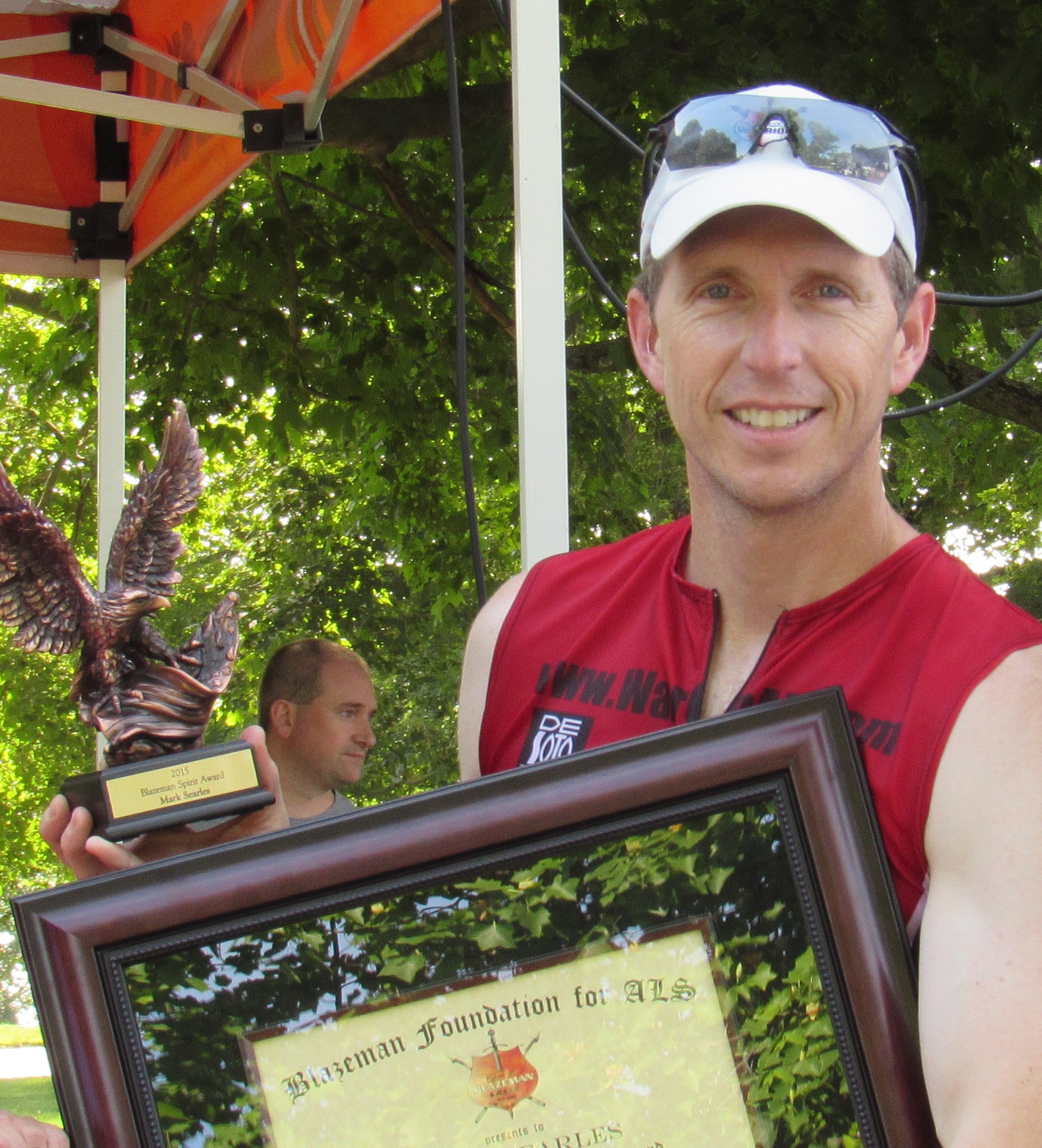 Mark grew up in Seekonk along with Jon and shared many of the same friends. They knew each other. Mark has been a Blazeman Warrior for several years supporting Jon's foundation many times over; he has twice run the Boston Marathon for the foundation. Observing Mark through the years we have seen many of the same qualities that Jon had…an easy smile, good athlete, and a young man than puts 100% into whatever he does…leading by example.  It was our pleasure to award Mark the Spirit of Blazeman award at the inaugural Blazeman Run!